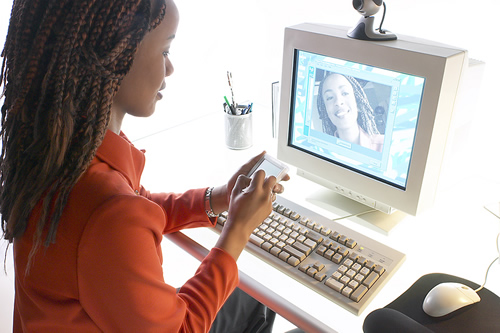 Career and Technology
The Business, Finance and Marketing Cluster of courses provides a broad, comprehensive curriculum that prepares students to become competent and literate in business skills, practices and technology. The Pathways offered include Accounting and Marketing.

In order to complete a pathway, students must pass three sequential courses in one area of concentration (Accounting or Marketing).

Students may earn college credit for some classes.
7302 BUSINESS, FINANCE AND MARKETING ESSENTIALS
- course one for both business pathways.
7402 Accounting II
7403 Accounting III
7406 Marketing Management II
7407 Marketing Management III
(Sports & Entertainment Marketing)
7409 Marketing Management IV (optional)
Family Consumer Science Pathway
Human Services.
Students will explore the development of individuals and families throughout the life cycle. In addition to human development theories, principles and practices, students will learn the roles, responsibilities and functions of families and family members. Students will also gain understanding in gerontology, contemporary family issues, family crises, and community services, agencies and resources. Emphasis will be placed on the role of the family and community in meeting the needs of its members as they progress through various stages of development.
Pathway Courses
Exploring Early Childhood
Exploring Earch Childhood Education Independent Study/Research
Jobs For Delaware Graduates (JDG)
JDG is a program designed to help students reach academic and career goals. Students will receive pathway credit for JDG courses. All JDG students are eligible for membership in the Delaware Career Association (DCA), a youth organization that enhances the classroom instruction with field trips, group activities, guest speakers, and state conferences.
A JDG Specialist will be available to assist students each day of the school year, as well as the summer and 12 months after graduation to help students find jobs in the career of their choice.
7909 JOBS FOR DELAWARE GRADUATES (Grade 9)
7910 JOBS FOR DELAWARE GRADUATES (Grade 10)
7911 JOBS FOR DELAWARE GRADUATES (Grade 11)
7912 JOBS FOR DELAWARE GRADUATES (Grade 12)
Technology Pathway (STEM)
Technology Pathway of courses within the Career and Technical Education Department provides a way to develop critical and creative thinking techniques through problem solving situations.
This pathway draws from the inventions and innovations of the past to help students develop skills in designing, inventing, researching, experimenting, producing, and controlling their environment for the future. These courses look at the benefits as well as the problems technology has created to better understand its wise use.
Students will be working with technology including design programs and 3-D printers. Students in all laboratory courses are required to wear appropriate safety glasses and additional safety equipment required for specific processes (materials provided).
Processes of Design and Engineering
8508 Design and Engineering I
8509 Processes of Design and Engineering II
8510 Processes of Design and Engineering III
Agricultural Science Courses
Environmental Science Pathway
AP Environemental Science